HHKB Professional Hybrid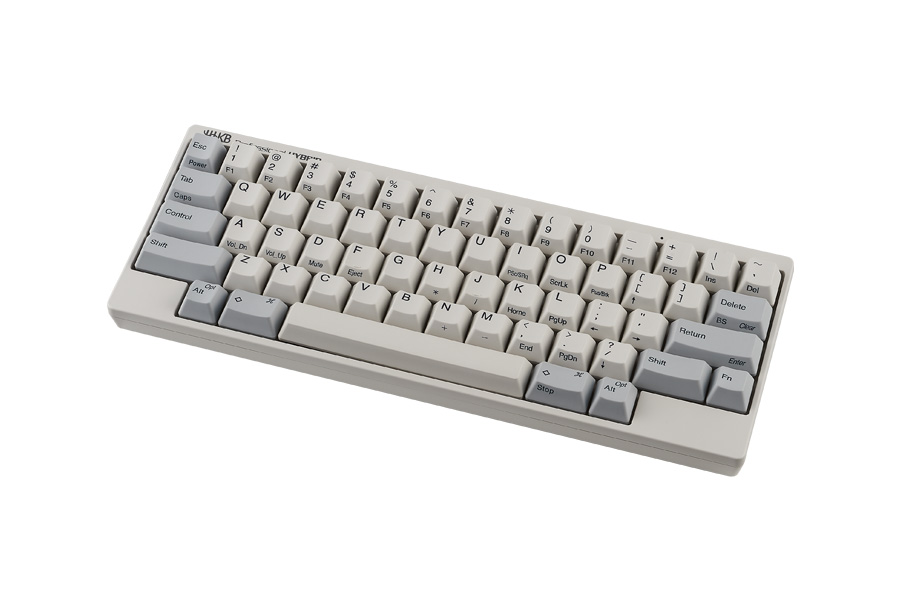 Released alongside the Professional Classic, the Hybrid and Hybrid Type-S include USB-C and Bluetooth connectivity.
The Classic and Hybrid lines feature a new case design with sharper bezels and rounder corners, similar to the Professional BT line. The branding has been moved from the lower right corner to the top of the case.
In addition to a Type-S variant, this line also includes JIS (standard and Type-S) variants.
In 2021, PFU released a limited edition 25th Anniversary variant of the HHKB Professional Hybrid Type-S, featuring a bright-white case and keycaps (plus an exclusive Fn keycap). This model was released in ANSI and JIS printed layouts (no blank variant was made, but blank keycaps are available separately in Japan).
Gallery
Model list
| Model Number | Model Name | Layout | Case Color | Keycap Color | Legends | Release Date |
| --- | --- | --- | --- | --- | --- | --- |
| PD-KB800W | HHKB Professional Hybrid | Modified ANSI | White | White | Dyesub | 2019-12-10 |
| PD-KB800B | HHKB Professional Hybrid | Modified ANSI | Charcoal | Charcoal | Dyesub | 2019-12-10 |
| PD-KB800WN | HHKB Professional Hybrid | Modified ANSI | White | White | Blank | 2019-12-10 |
| PD-KB800BN | HHKB Professional Hybrid | Modified ANSI | Charcoal | Charcoal | Blank | 2019-12-10 |
| PD-KB800WS | HHKB Professional Hybrid Type-S | Modified ANSI | White | White | Dyesub | 2019-12-10 |
| PD-KB800BS | HHKB Professional Hybrid Type-S | Modified ANSI | Charcoal | Charcoal | Dyesub | 2019-12-10 |
| PD-KB800WNS | HHKB Professional Hybrid Type-S | Modified ANSI | White | White | Blank | 2019-12-10 |
| PD-KB800BNS | HHKB Professional Hybrid Type-S | Modified ANSI | Charcoal | Charcoal | Blank | 2019-12-10 |
| PD-KB820W | HHKB Professional Hybrid | Modified JIS | White | White | Dyesub | 2019-12-10 |
| PD-KB820B | HHKB Professional Hybrid | Modified JIS | Charcoal | Charcoal | Dyesub | 2019-12-10 |
| PD-KB820WS | HHKB Professional Hybrid Type-S | Modified JIS | White | White | Dyesub | 2019-12-10 |
| PD-KB820BS | HHKB Professional Hybrid Type-S | Modified JIS | Charcoal | Charcoal | Dyesub | 2019-12-10 |
| PD-KB800YS | HHKB Professional Hybrid Type-S | Modified ANSI | Snow White | Snow White | Dyesub | 2021 |
| PD-KB820YS | HHKB Professional Hybrid Type-S | Modified JIS | Snow White | Snow White | Dyesub | 2021 |